The Bolivar City Fire Department is funded by a newly passed 1/4 cent sales tax dedicated to the BCFD. This tax was passed with the continued support of the citizens of Bolivar. The only additional funding that is obtained is thru federal grants or donations. We have been successful with the "Assistance to Firefighters Grant" program funded by the Department of Homeland Security. We have been awarded this grant 4 years in a row now and are awaiting the awards to be announced for this year.
All donations to the Bolivar City Fire Department are placed in a special "Life Preservation Fund" that is used to purchase specialty equipment and supplies for our department. This fund has been successful in purchasing two Automatic External Defibrillators (AED) for our department along with many other tools used for saving lifes.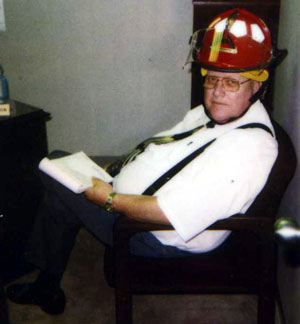 Here Mayor Charles Ealy tries on his Fire Helmet.
Page last updated 07/08/2006 by roberth@equipmentintensive.com