Our Equipment includes: 2 Fire Stations, 4 Engine Companies, 1 Service Company,
1 Truck Company, 1 Brush Truck Company, and 1 Command Vehicle.
Stations
Station 1
312 S. Springfield Ave.
This five-bay station was built in 1983 to replace the two-bays located at the old city hall. The building used to hold the Chief's office, hose tower, and a mezzanine for business and training meetings. We have been remodeling for the last year. We now have a new classroom, dayroom, kitchen, communications room, Captains office, and also updated the existing Chiefs office. We will have new pictures on here very soon. We also have a fully operational dispatch center. We have the capability of toning any department, and activating the storm sirens for the entire county. We have 6 VHF base radio's, Amateur Radio, a scanner, 2 weather radio's, 2 encoders, 3 computers, weather terminal, TV for local news stations, and 5 phone lines. If our 911 center has problems, this is the back up center for them.
Station #1 Apparatus
Engine Companies
Engine 5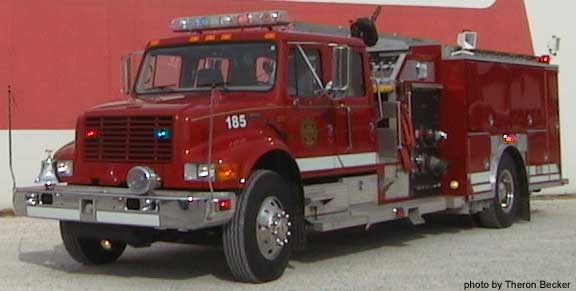 This is a 1999 Precision built truck on an International Chassis. It has a 1500 gpm Darley Pump, a Compressed Air Foam System (CAFS), 1000 gal Water/40 gal Foam poly tank. Some of the equipment it carries includes; Our Hydraulic Tools, Cribbing, SCBA's, spare SCBA tanks, Hose, Ventilation Saw, Traffic Control tools, an AED, Medical Bag, Suction Unit, Oxygen, and other misc. firefighting equipment. We use Hydro-Break (Econo-Chem, Inc.) in our CAF System, it has been the best multi-purpose foam that we have used. It works on Hazardous Materials, Vehicle Fires, Structure Fires, and one of the best is Hay Fires. Hay has always been a problem to extinguish, but we have used the foam and it makes a big difference. Engine 5 is used as our Command Unit, it has a second radio for communications, Cell Phone, Working area on the console, and the receiving equipment for the Thermal Imager. This is one of 3 trucks equipped with Mobile Data Terminals. We use Firehouse Software, along with other programs to assist us on fire scenes, pre-plans, or any other event. Engine 5 is our first out Engine Company to all calls.
Engine 6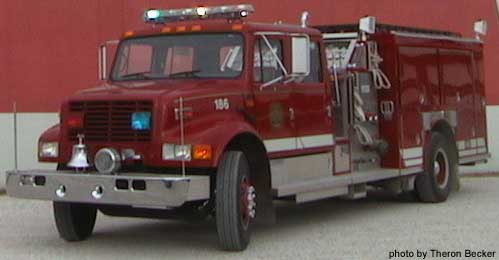 This is a 1993 Precision built on an International Chassis much like Engine 5. It has a 1500 gpm Darley Pump, and a 500 gal. Water Tank. It carries the same firefighting equipment as Engine 5 except the Thermal Imager, and Hydraulic Tools. Engine 6 is the Second out Engine to all calls.
Truck Companies
Truck 1

Truck 1 is a 1997 Simon/Duplex 100ft Platform Aerial Truck. It has a 1250 GPM pump, Onan Diesel Generator, 1000 GPM Electronic Monitor on the bucket. This truck is home of many Hand Tools, Cribbing, Medical Equipment, Thermal Imaging Camera, K12 Saw, Blitz fire 500 GPM Personal Attack Monitor 1500 Watt Tripod Flood Lights, High Angle Rescue Equipment, and some extrication equipment.
Truck 3
Picture coming soon!
This is a 2005 Ford F-350 Chassis with a Steel Flat bed. We installed a UPF Polytank skid unit that holds 225 gallons of water. It has a booster reel with 250' of hose, we also carry a small amount of 1 1/2" for a larger attack line. The equipment on this truck consists of 2 Back-Pack leaf blowers, 4 rakes, drip torch, hooligan tool, axe, and other small hand tools. We will be adding a small chain saw shortly. This truck also will be doubling as a command vehicle with a compartment full of resources including 2 mobile radios, large accountibility tag board, and other necessary tools. Eventually we will have a vehicle other than this one for the purpose of command.
Station 2
2701 W. Aldrich Rd.

This Station was constructed in 2001 as the water tower for the Industrial Park on the W. side of Bolivar. This tower has a 1 million gallon water capacity and gives us space for our service truck and our reserve and parade engines
Station #2 Apparatus
Engine Companies
Engine 1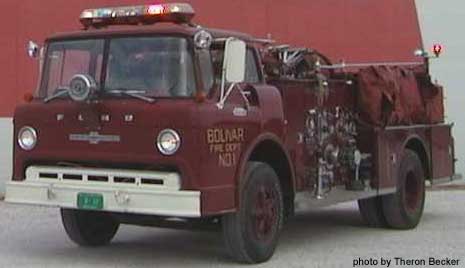 This is a 1967 American LaFrance on a Ford Chassis with a 750 gpm pump. This truck was bought new and driven from Springfield. We have updated the lighting and equipment on this truck to keep up with the new standards. This is one of our reserve engine's.
Engine 2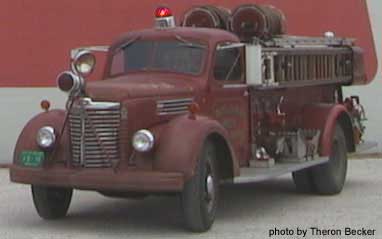 This is a 1947 Central on an International Chassis with a 750 gpm pump. The chassis was bought at Kirk Patrick Motors here in Bolivar, shipped off to become a fire truck and delivered back by rail car. This truck is very unique, it has a 6 volt positive ground system that makes it interesting to function with current electronics. This truck has been through many changes and use but it still works like the day it was new. This is our second reserve engine.
Engine 180 (Retired)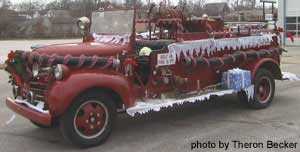 This is a 1942 Dodge with a Springfield Auto Works body. We strictly use this engine for parades and special events. This was our first apparatus the department bought new. Many Bolivar citizens stood by as it arrived in town by rail-car during WWII. We had this engine for a stretch of time then sold it to Morrisville Fire Department. Later, Morrisville FD wanted to retire it and two Bolivar FD members, Dale Newcomb and Carl Robertson bought it and planned on restoring it themselves if the city of Bolivar did not buy it. The city agreed to reimburse Dale and Carl, so now it is ours to enjoy
Truck Companies
Truck 4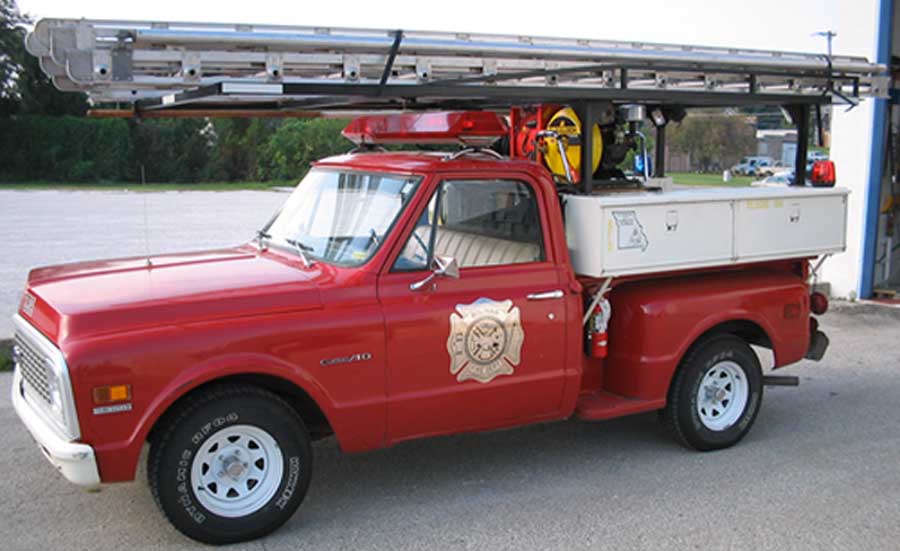 This is a 1972 Chevrolet Pickup was given to us from the Missouri Department of Conservation. It is used primarily as a Service Company, it carries Spare SCBA's, Spare SCBA Tanks, Ventilation Fan, Cutting Saw, Generator, and Traffic Cones. We have refurbished this truck and added the ladder rack, more equipment, and an updated lighting system. This is pretty much a fully equipped Truck Company without the aerial device.
Command Vehicles
Chief 1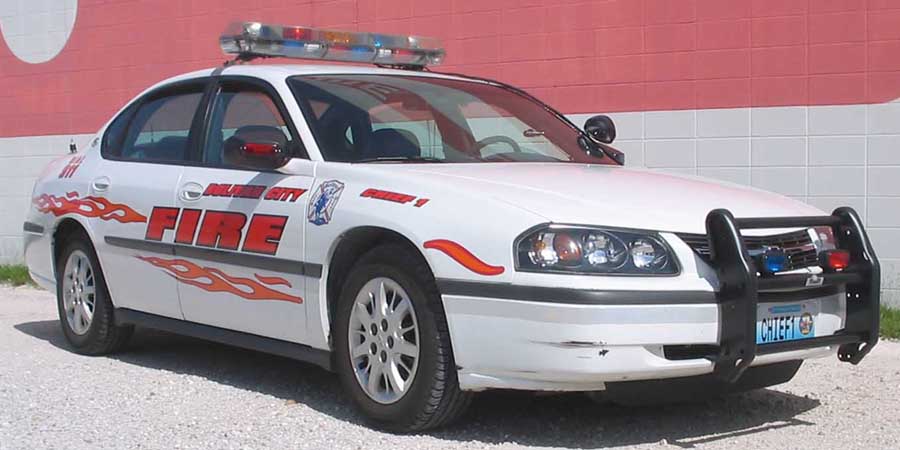 We placed the new car in service April of 2004. This car carries some of our rehab supplies, medical equipment, spill clean-up equipment. This car is used by the Fire Chief for her daily duties. This car is a 2000 Chevy Impala, it is another one of Bolivar's Retired Police Cars.
Misc.
Our Call Letters are: WPUD-293
New BCFD tones coming soon!
Page last updated 07/08/2006 by roberth@equipmentintensive.com