The Bolivar City Fire Department responds to help whenever called. Some things the Fire Department might be found responding to includes: Residential Structure Fires, Commercial Structure Fires, Vehicle Fires, Natural Cover Fires, Outside Waste Fires, Motor Vehicle Accidents, Medical Assist, Hazardous Materials, Misc. Service Calls, Mutual Aid Calls to other departments, Safety Inspections, Public Safety Education, hosting other area fire departments for training classes, going to other area fire departments for training classes.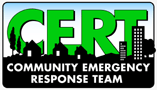 If you have any questions or would like to become a part of CERT, please email Theron Becker.

We are developing an integrated Personnel Accountability and Incident Management (PA/IM) System. This is an ongoing and difficult task. Imagine counting a truck-load of colored marbles spilled on a highway as semi's are driving by at 65mph. This is similar to keeping track of volunteers while responding, on scene, and departing an incident. This is exactly what this system does. Our system is made up using four Tags. We have one Tag in each Station for the Apparatus Board. This is used for displaying which responders are in the apparatus at the station. Then each responder has two tags on their helmet. One goes to the Incident Commander of the scene for role call. The other tag goes to that individuals direct supervisor. The only person on scene with their own tags is the IC. The IC has at least one tag from everyone on scene, and then one from each "Team Leader", or Supervisor. The IC manages teams by communicating with that teams supervisor. Each supervisor has one of their team-member's tags and must keep track of those in their team. If an emergency happens, the IC can call each of their supervisors and if each of those supervisors can account for their team, everyone on scene is accounted for. If an individual or team is lost, the supervisor and/or IC knows who, how many, and probable location of that team or individual. This system is not perfect ... yet. We will get it suited for us soon. If you have an suggestions or questions please email the webmaster.

Incident Statistics:
Based on incident reports dated back to 1973, here is some data obtained:
The most calls occurred in the month of May.
The most calls occurred on the 5th day of any month.
The most calls occurred on Wednesday or Friday.
The most calls occurred between 10am and 11am.
The most calls occurred when there was no moon.
The average response time was 5 minutes.
The average time on scene was 1 hour and 39 minutes.
The most calls occurred in the South-West quarter of town.
The most calls occurred in a residential occupancy.
The most calls were phoned into the police department.
The most calls were Fires, as opposed to Haz-Mat, EMS, Training, etc.
The most calls were caused by failure of equipment.
Page last updated 07/08/2006 by roberth@equipmentintensive.com